Guess What!!! I won my first Award.......Check out the bottom of my page
Z Z Z Z Z Z
Merry Meet and Merry Part,
Bright the cheeks and Warm the Heart.
Mind the Threefold Law you should,
Three times bad or three times good.
Ye Harm None, Do What Ye Will
When misfortune is enow,
Wear a blue star on thy brow.
True in Love ever be.
Lest thy Lover's false to thee...
Eight Words The Wiccan Rede Fulfill:
An it harm none, do what thou will.
Z Z Z Z Z Z
Thirteen Goals of A Witch

1~ Know yourself
2~ Know your craft
3~ Learn
4~ Apply knowledge with wisdom
5~ Achieve balance
6~ Keep your words in good order
7~ Keep your thoughts in good order
8~ Celebrate life
9~ Attune with the cycle of the Earth
10~ Breathe and eat correctly
11~ Exercise the body
12~ Meditate
13~ Honor the Goddess and God
Z Z Z Z Z Z
My Collection of Witchy Info.......
Candles
Symbolism of Colors

Zodiac
Traditional, Native American, Chinese

The Wiccan Rede and Law of the Power
Basic Guidelines for Wiccans

Herbs
Ritual & Magickal Uses

Oils
Ritual & Magickal Uses
Great Mother, Great Father
Charge of the Goddess & God
Crystal Chart
'Lil info on Crystal's & Gemstones
Moon Magick
Phases of the moon and meanings
My Spirit
~Love Me~
A couple little things I wrote
My Mudane Life
This is me
See Where I got My Graphics and the WebRings I'm with

Meet the Witch that I adopted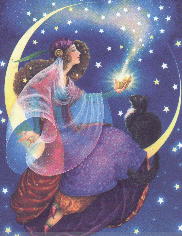 She does not follow any particular tradition,
also known as Eclectic.She learns and studies from many magickal
systems and applies those to her practice
which work best. You might find her in her sacred space
calling upon the
Universe for help in her magickal workings
to find out how you can adopt a Witch click on the graphic
Z Z Z Z Z Z
Please Sign my Guestbook and tell me what ya think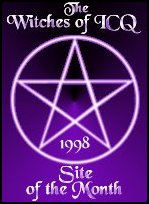 My First Award
July 1998